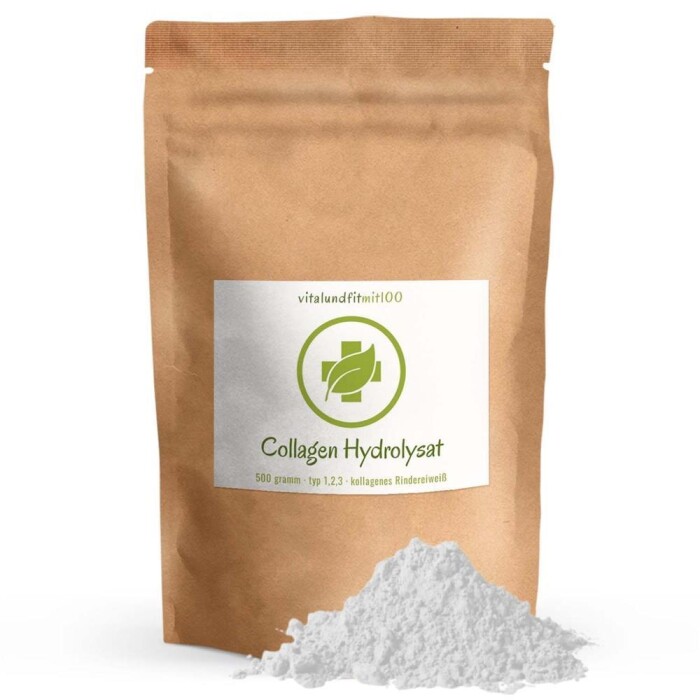 Collagen Hydrolysate Powder 500 g
Base price
33,90 € per 1 kg
See Best Offers
From 2: 16,45 € (32,90 € per kg)
From 3: 15,95 € (31,90 € per kg)
From 5: 15,45 € (30,90 € per kg)
Available now!
Place your order within and we ship the goods today.
Our high-quality, laboratory-tested collagen hydrolysate (type 1, 2, 3) powder, manufactured in Germany, is a neutral-tasting powder free of any additives. Pure collagen bovine protein, filled in resealable bag.
---
---
Item no.: 1131
Content/amount: 500 g
EAN: 4251097504933
Country of origin: Deutschland
Natural & certified ingredients
Carefully & conscientiously selected raw ingredients
Fair quality at fair prices
For over 10 years, healthy trust
developed and handcrafted with plenty of

❤

in Germany.
Collagen Hydrolysate Powder is responsible for the strength and flexibility of the connective tissue and also supports the maintenance and growth of muscles.
Our collagen hydrolysate powder is a neutral-tasting collagen powder without any unnecessary additives, colourings and flavourings, free from gluten, lactose, soya, yeast and allergens; thus a pure collagen bovine protein. The active ingredient collagen hydrolysate type I was obtained by enzymatic cleavage.
Our high-quality collagen hydrolysate powder is readily soluble in all cold and warm liquids and can be easily absorbed by the body. For example, the powder can be stored in soups, smoothies, shakes and other beverages.
Our powder, produced in Germany according to the highest quality standards, is laboratory tested for germs, heavy metals, salmonella, pesticides, moulds and much more.
Special features of our amino complex capsules:
  Collagen hydrolysate with type I, type II and type III
  pure collagen bovine protein
  free from gluten, lactose, yeast, soy and allergens
  laboratory-tested quality: no contamination by germs, heavy metals etc.
  tasteless
  very good solubility in all liquids
  without artificial additives, colourings and flavourings
  free from artificial colours and preservatives
  Guaranteed top quality
Ingredients: Contains collagen hydrolysate type 1, 2, 3
Recommendation for use: Every day 1 x 10 g hydrolysate powder or 1 x 11 vital measuring tablet (enclosed) in liquid and drink. Can also be mixed with food.
Storage instructions: Keep the product dry, out of the reach of small children and away from light.
Nährwertangaben
per 100 g
pro 11 vital-Messlöffel
(daily portion 10 g)
Calorific value
1530 kJ / 360 kcal
153 kJ / 36 kcal
Ballast materials
0 g
0 g
* Reference amount for an average adult (8400 kJ / 2000 kcal).
** Sodium does not come from added salt, but is a component of gelatin.
Ernährungsspezifische Stoffe
pro 100 g
pro 11 vital-Messlöffel
(Tagesportion 10 g)
>>
>>
L-Asparaginsäure
6,6 g
0,66 g
>>
L-Glutaminsäure
12,4 g
1,24 g
>>
>>
>>
L-Hydroxylysin
1,2 g
0,12 g
>>
L-Hydroxyprolin
11,4 g
1,14 g
>>
>>
>>
>>
>
L-Phenylalanin
2,1 g
0,21 g
>>
>>
>>
>>
>>
>>
Verpackung: Doypack / Standbodenbeutel aus Kraftpapier mit Druckverschluss, wiederverschließbar

Inhalt / Füllmenge: 500 g

Herkunftsland: Deutschland

EAN: 4251097504933

Hersteller: vitalundfitmit100 GmbH, Siemensstr. 10, 41363 Jüchen
Why can not I find information on the mode of action of this product? Click here