Chlorine Dioxide Solution 0.3% (CDS) 50 ml in brown glass (ideal for the trip)
Our coveted chlorine dioxide solution from fresh production in pharmaceutical amber glass bottle with dropper insert and originality ring. Now also available in 50 ml - ideal for the trip.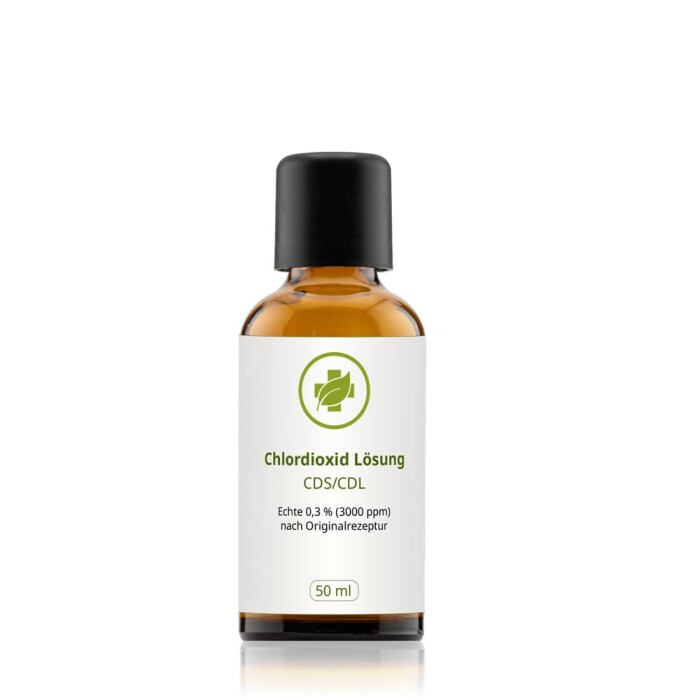 My advantages
Natural & certified ingredients
Carefully & conscientiously selected raw ingredients
Fair quality at fair prices
For over 10 years, healthy trust
developed and handcrafted with plenty of

❤

in Germany.
Shipping information
Delivery status: Available now!

Place your order within and we ship the goods today.
Shipping time: 1 - 2 workdays**
You need the goods guaranteed the next working day? For a surcharge, we send the goods gladly with DHL Express.
Our coveted chlorine dioxide solution now also available in 50ml - ideal for the trip
As usual always in best quality, from fresh production.
esteem:
Use biocidal products with care. Always read the label and product information before use.
Other names:
Chlorine dioxide solution, ClO2, Chlorine Dioxide Solution, CDS, CDL
BAuA Reg. no.:
N-52379, N-54600, N-54601, N-54602
EC No. Shelf life:
233-162-8
Shelf life:
When stored below 11°C, protected from light, at least 6 months.
Index No. Contents:
017-026-01-0
Content / Filling quantity:
50 ml
concentration:
0.3 % Chlorine dioxide, bound to water
type:
all-round resources
packing:
Pharmaceutical brown glass bottle with drip insert and originality ring
Approvals of the product and their legally defined areas of application:
drinking water disinfectant, Disinfectants for private use, Disinfectants for the food and feed industry, Biocidal products for hygiene in the veterinary sector
Country of origin:
Deutschland
Manufacturer:
vitalundfitmit100 GmbH, Siemensstr. 10, 41363 Jüchen
Why can not I find information on the mode of action of this product? Click here
This might also interest you