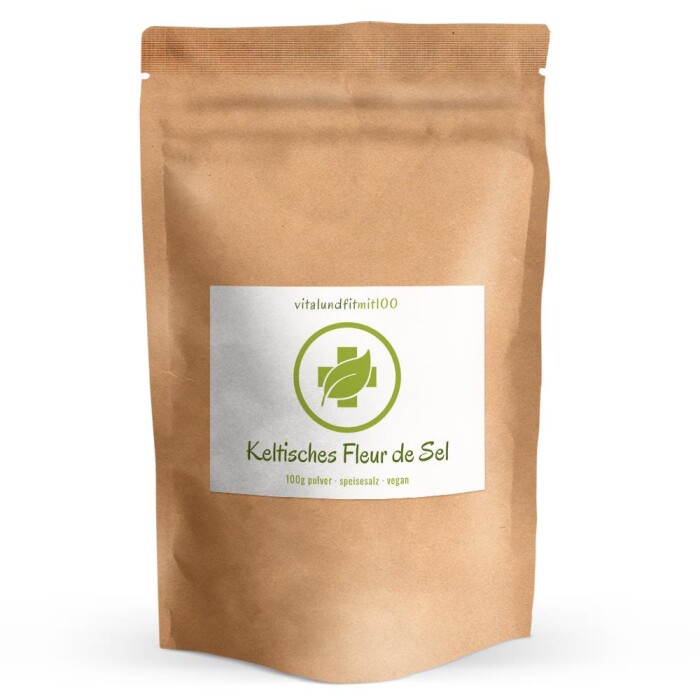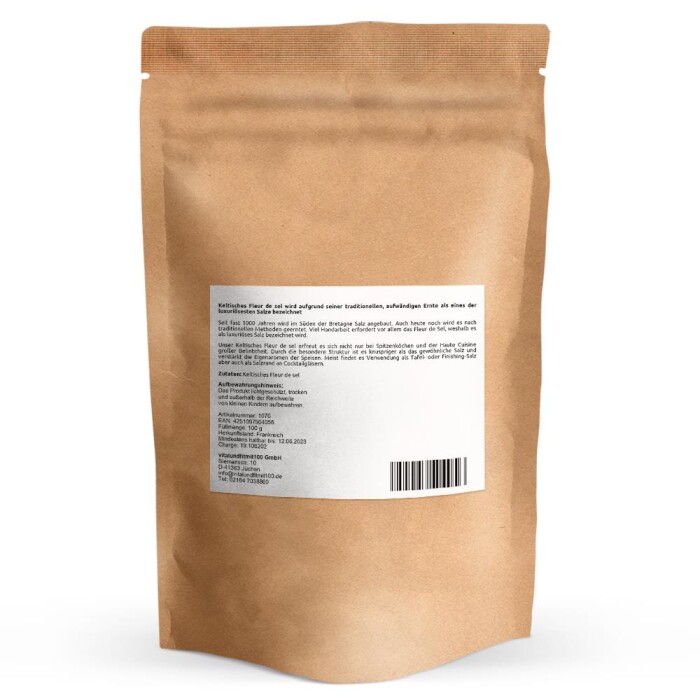 Celtic Fleur de sel 100 g
Base price
4,95 € per 100 g
See Best Offers
From 2: 4,75 € (4,75 € per 100 g)
From 3: 4,55 € (45,50 € per 1 kg)
From 5: 4,35 € (43,50 € per 1 kg)
Available now!
Place your order within and we ship the goods the next working day.
Celtic Fleur de sel, also known as "pyramid salt", is a hand-made & hand-picked sea salt with a soft taste. Absolutely natural. Ideal alternative to table salt.
---
---
Item no.: 1070
Content/amount: 100 g
EAN: 4251097504056
Country of origin: Frankreich
Natural & certified ingredients
Carefully & conscientiously selected raw ingredients
Fair quality at fair prices
For over 10 years, healthy trust
developed and handcrafted with plenty of

❤

in Germany.
Celtic Fleur de sel is considered one of the most luxurious salts due to its traditional, elaborate harvest.
Salt has been cultivated in the south of Brittany for almost 1000 years. Even today it is still harvested according to traditional methods. The Fleur de Sel requires a lot of manual work, which is why it is called luxurious salt. If salt flowers, the Fleur de Sel, arise on sunny and windy summer days on the surface of the salt marshes, they are skimmed off by the Paludier in laborious work with a wooden ladle.
Special characteristics of our Celtic Fleur de sel
  vegan
  soft taste
  also known as pyramid salt
  from the south of Brittany
  100 % Natural product
Contents: Celtic fleur de sel
Our Celtic Fleur de sel enjoys great popularity not only among top chefs and haute cuisine. Due to its special structure, it is crispier than ordinary salt and enhances the flavour of the food. Mostly it is used as table salt or finishing salt but also as salt rim on cocktail glasses.
Packaging: Doypack / stand-up pouch made of kraft paper with pressure closure, resealable
Type: Spice
Content / Filling quantity:
100 g
Country of origin: France
EAN: 4251097504056
Manufacturer: vitalundfitmit100 GmbH, Siemensstr. 10, 41363 Jüchen
Why can not I find information on the mode of action of this product? Click here