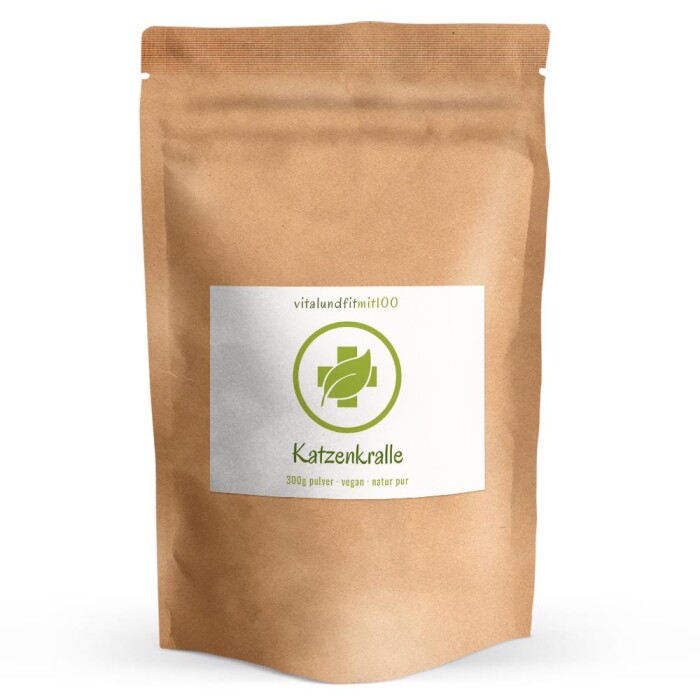 Cat's Claw powder 300 g
14,95 € 12,71 €
Base price
42,37 € per 1 kg
You save:
15%, that is 2,24 €
See Best Offers
From 2: 12,71 € (42,37 € per kg)
From 3: 12,71 € (42,37 € per kg)
From 5: 12,71 € (42,37 € per kg)
Available now!
Place your order within and we ship the goods today.
Finely ground powder from the inner bark, suitable as tea, contains natural antioxidants, raw food quality
---
---
Item no.: 1119
Content/amount: 300 g
EAN: 4251097504803
Country of origin: Deutschland
Natural & certified ingredients
Carefully & conscientiously selected raw ingredients
Fair quality at fair prices
For over 10 years, healthy trust
developed and handcrafted with plenty of

❤

in Germany.
The cat's claw (Unaria tomentosa) is a liana from the rain forests of the Peruvian Amazon and belongs to the genus of the Rötegewäcks. In the Latin American countries the plant is called "Uña de Gato" which freely translates as "cat claw" or "cat thorn". The plant is also called "cat's claw" because of the characteristic spines that resemble the shape of a cat's claw.
The liana-like plant has a long tradition as a cultivated plant among the indigenous Peruvians. They have been protecting the cat's claw for centuries because it contains antioxidants such as polyphenols and triterpenes.
Our cat claw powder has raw food quality and is gently finely ground for further processing so that it can be absorbed particularly well. Our powder is suitable for the preparation of teas, smoothies and other cold drinks.
Special characteristics of our cat claw powder:
  finely ground powder from the inner bark
  contains natural antioxidants
  100% vegan
  optimal as herbal tea
  suitable for smoothies, cold drinks and teas
  without any additives
Contents: Contains 100% pure cat's claw powder (Cat's Claw - Uncaria tomentosa)
Packaging: Doypack / stand-up pouch made of kraft paper with pressure closure, resealable
Contents / volume: 300 g
Country of origin: Germany
EAN: 4251097504803
Manufacturer: vitalundfitmit100 GmbH, Siemensstr. 10, 41363 Jüchen
Why can not I find information on the mode of action of this product? Click here