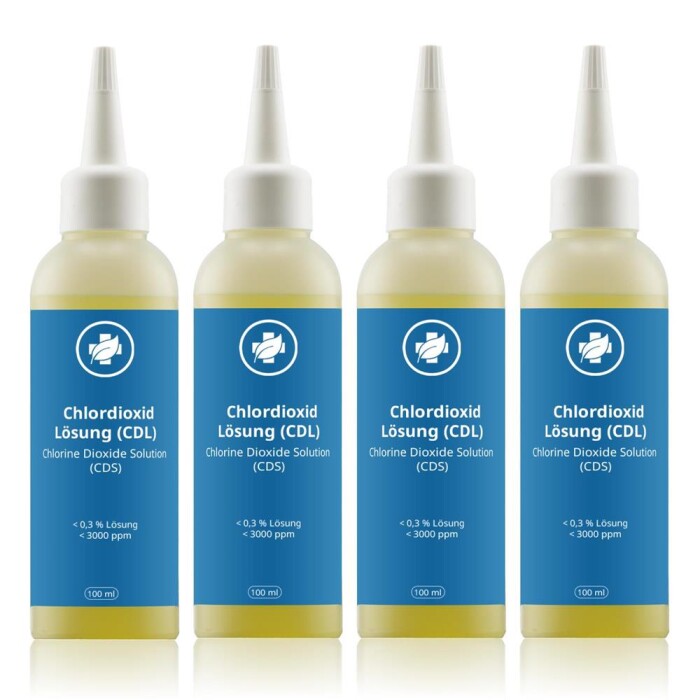 CDS bundle (small) buy 3 x 100ml bottles, get one free
Base price
148,50 € per 1 l
Recommended retail price:
79,20 €
You save:
25%, that is 19,80 €
Available now!
Place your order within and we ship the goods the next working day.
1 component solution CDS 0.3% in a bundle, buy 3 bottles get 1 free
---
---
Item no.: 0177
Content/amount: 400 ml
EAN: 4251097500805
Country of origin: Deutschland
Natural & certified ingredients
Carefully & conscientiously selected raw ingredients
Fair quality at fair prices
For over 10 years, healthy trust
developed and handcrafted with plenty of

❤

in Germany.
CDS/CDL savings package (small) 3+1 free
+++ 1 component Finished solution: in our factory in true 0.3 % (3000 ppm) solution, according to original recipe +++
Available in a special HDPE dropper bottle.
Caution: Use biocidal products carefully. Always read label and product information before use!
  Real 0.3 % solution in highest quality
  According to original recipe
  Absolutely pure and no defects
  Always freshly produced goods
  Manufactured in Germany according to the strictest regulations
  Immediately ready for use, no more activation required
Other names: Chlorine dioxide solution, ClO2, Chlorine Dioxide Solution, CDS, CDL
Storage note: in refrigerator. The shipping route is not harmful, just make sure that the bottle is below 11°C before opening the bottle.
BAuA Reg. No.: N-52379, N-54600, N-54601, N-54602
CAS number: 10049-04-4
EG-No.: 233-162-8
Index no.: 017-026-01-0
Concentration: 0.3 % chlorine dioxide, bound to water
Content / Volume: 4 x 100 ml
Storability: When stored below 11°C, light protected, minimum 6 months.
Pharmaceutical central number (PZN): 03350723
EAN: 4251097500805
Safety data sheet: Download
Type: Allround agent
Packaging: Special HDPE dropper bottle
Approvals of the product and their legally defined areas of application: Drinking water disinfectants, disinfectants for the private sector, disinfectants for the food and feed sector, biocidal products for hygiene in the veterinary sector
Country of origin: Germany
Manufacturer: vitalundfitmit100 GmbH, Siemensstr. 10, 41363 Jüchen
Caution message for some chlorine dioxide products in auctions!
Some chlorine dioxide products in auctions are not distilled solutions. Among other things, solutions with up to 1.2 % are sold there. Chlorine dioxide gas distillate can absorb a maximum of 0.3 % chlorine dioxide gas in demineralized water. They are simply sold there a simply activated sodium chlorite with its Rückstü;nder for a lot of money. None of the products offered there meet the legal requirements. The main advantage of CDS is its purity. Since CDS is only the distilled gas in water, there are virtually no traces of the original components. Do not let yourself be fooled, pay urgent attention to the quality
Why can not I find information on the mode of action of this product? Click here