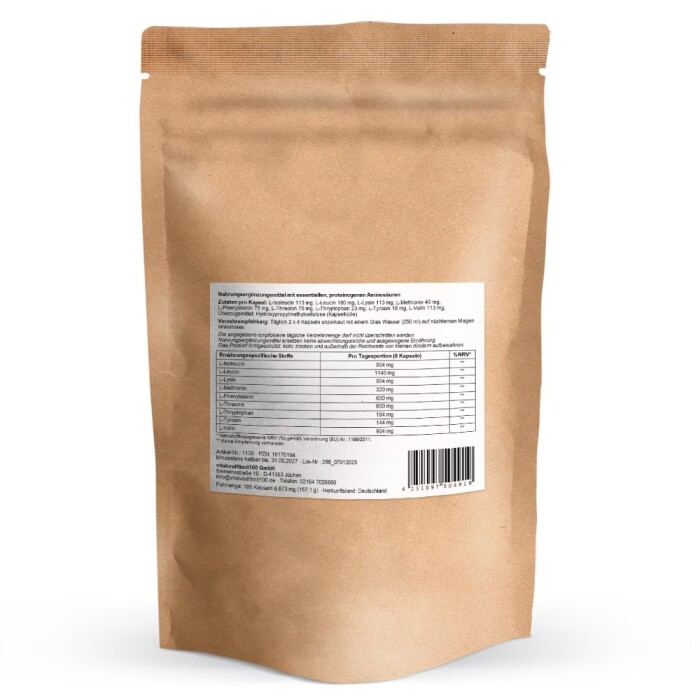 Amino Complex - 180 Vegi Capsules à 750mg
Base price
18,44 € per 100 g
See Best Offers
From 2: 27,95 € (178,03 € per 1 kg)
From 3: 26,95 € (171,66 € per 1 kg)
From 5: 25,95 € (165,29 € per 1 kg)
Available now!
Place your order within and we ship the goods today.
All eight essential amino acids plus tyrosine optimally combined in one preparation. Free of artificial dyes, preservatives and genetic engineering. The vegan capsules are available in resealable kraft paper bags.
---
---
Item no.: 1130
Content/amount: 157 g
EAN: 4251097504919
Country of origin: Deutschland
Natural & certified ingredients
Carefully & conscientiously selected raw ingredients
Fair quality at fair prices
For over 10 years, healthy trust
developed and handcrafted with plenty of

❤

in Germany.
Our amino complex is a particularly balanced combination of all eight essential amino acids plus L-tyrosine. These special, essential L-amino acids cannot be produced by the human organism itself and have been combined in our product in an optimal ratio.
The higher the net nitrogen utilization (NNU) of a protein, the higher the protein synthesis. As a result, more energy is consumed and fewer waste products are produced. Thanks to the composition of these 8 essential amino acids plus tyrosine, our Amio Complex achieves an NNU value of 99%, i.e. almost all amino acids can be used for protein synthesis and thus for the cell formation (anabolic) of the body. Consequently, our aminoä;uren complex provides the lowest amount of polluting nitrogen waste with 1%.
Our amino complex consists to 100% of vegan amino acids of plant origin, which are obtained and purified by a complex fermentation process, free of artificial dyes and preservatives as well as genetic engineering. Our capsules are manufactured to the highest quality standards.
Our capsules are made of HPMC (Hydroxypropylmethylcellulose) and are vegan, gluten- and lactose-free. This makes our aminoäurine complex particularly suitable for vegans and vegetarians.
Special features of our amino complex capsules:
  100% vegan, gluten- and lactose-free
  from plant sources
  optimum composition
  100% bioavailability
  vegan capsules (hydroxypropylmethylcellulose, HPMC for short)
  especially suitable for vegans
  GMO-free
  free from artificial colours and preservatives
  guaranteed quality
  carefully manufactured in Germany
Contents per capsule: L-Isoleucine 113 mg, L-Leucine 180 mg, L-Lysine 113 mg, L-Methionine 40 mg, L-Phenylalanine 75 mg, L-Threonine 75 mg, L-Thryptophan 23 mg, L-Tyrosine 18 mg, L-Valine 113 mg
Recommendation for use: Use 2 x 4 capsules with plenty of liquid (200-300ml) daily. Optimal on empty stomach.
The recommended daily intake must not be exceeded. Food supplements do not replace a healthy, varied and balanced diet.
Storage instructions: Keep the product dry, away from light and out of the reach of small children.
Food specific substances
per capsule
per daily dose (8 capsules)
NRV*
L-Isoleucine
113 mg
904 mg
**
L-Leucin
180 mg
1140 mg
**
L-lysine
113 mg
904 mg
**
L-Methionine
40 mg
320 mg
**
L-Phenylalanine
75 mg
600 mg
**
L-threonine
75 mg
600 mg
**
L-Thryptophan
23 mg
184 mg
**
L-Tyrosine
18 mg
114 mg
**
* Reference nutrient values NRV (%) according to Regulation (EU) No 1169/2011 Annex XIII NRV: Nutrient Reference Values.
** No recommendation available
Packaging: Doypack / stand-up pouch made of kraft paper with pressure closure, resealable
Contents / quantity: 180 capsules of 750 mg each
Country of origin: Germany
EAN: 4251097504919
Manufacturer: vitalundfitmit100 GmbH, Siemensstr. 10, 41363 Jüchen
Why can not I find information on the mode of action of this product? Click here