Travel set [50ml set] brown glass
New
In small 50ml brown glass bottles - ideal for travel and trips. Choose from citric acid or hydrochloric acid as an activator.
My advantages
Natural & certified ingredients
Carefully & conscientiously selected raw ingredients
Fair quality at fair prices
For over 10 years, healthy trust
developed and handcrafted with plenty of

❤

in Germany.
Shipping information
Delivery status: Available now!

Place your order within and we ship the goods today.
You need the goods guaranteed the next working day? For a surcharge, we send the goods gladly with DHL Express. No delivery by DHL Express on a Saturday
Water purification & drinking water disinfection
This set to produce chlorine dioxide includes:
50ml 25% real sodium chlorite to an original formula
50ml 50% citric acid (food-grade) or 50ml 4% hydrochloric acid (Ph Eur.)
This 50ml set comes in special pharmaceutical-grade brown glass bottles with droppers and child safety closures!
All components to an original formula
Application description for disinfection:
To disinfect, mix the two components together drop by drop 1 to 1. Depending on the desired application, only produce as much as is required. Prepare a new mixture before each disinfection.
country of origin:
Germany (German)
manufacturing vessel:
Glass, ceramic container, no metal container!
reference:
Never mix both bottles completely at once!!
Information:
The activation of both liquid components (A & B) produces the biocidal active ingredient chlorine dioxide., Caution: Use biocidal products carefully. Always read the label and enclosed leaflet before use.
Content / Filling quantity:
2x 50 ml
storage:
Storage at normal room temperature, protected from light & dry.
Notification of a biocidal product according to ChemBiozidMeldeV:
BAuA Reg. No.: N-77069
minimum storage life:
2 years
reaction time:
Depending on temperature approx. 30 sec - 1 min.
packing:
Pharmaceutical amber glass bottle with drip insert, child safety cap and originality ring, Pharmaceutical brown glass bottle with drip insert and originality ring
Country of origin:
Deutschland
Manufacturer:
vitalundfitmit100 GmbH, Siemensstr. 10, 41363 Jüchen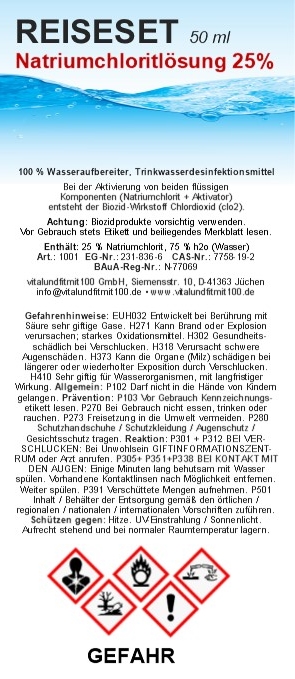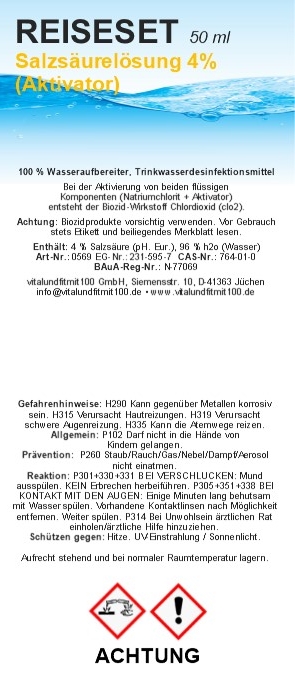 Why can not I find information on the mode of action of this product? Click here
This might also interest you