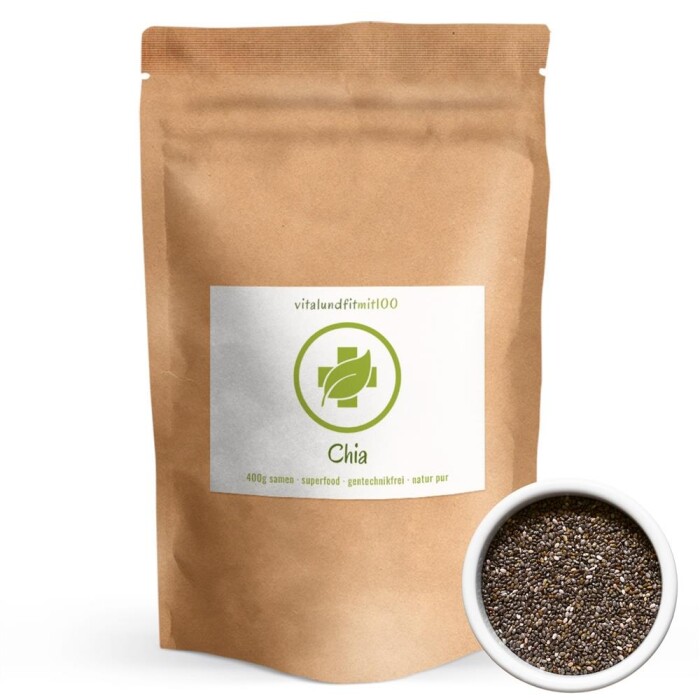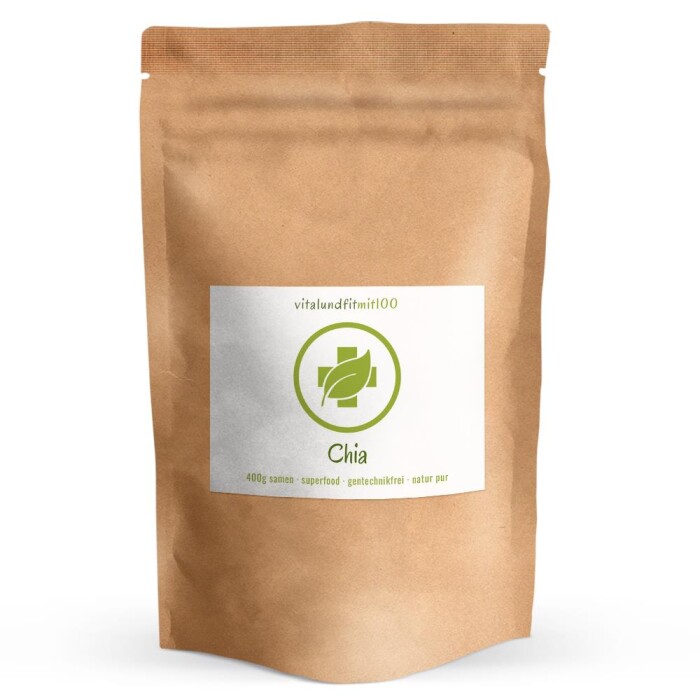 Chia seeds 400g
Base price
19,87 € per 1 kg
See Best Offers
From 2: 7,45 € (18,62 € per kg)
From 3: 6,95 € (17,37 € per kg)
From 5: 6,45 € (16,13 € per kg)
Available now!
Place your order within and we ship the goods today.
A plant-based resource ideal for a healthy snack.
---
---
Item no.: 0229
Content/amount: 400 g
EAN: 4251097500140
Country of origin: USA
Natural & certified ingredients
Carefully & conscientiously selected raw ingredients
Fair quality at fair prices
For over 10 years, healthy trust
developed and handcrafted with plenty of

❤

in Germany.
A plant-based resource ideal for a healthy snack.
Chia seeds (salvia hispanica L.) are part of the mint family and were originally cultivated by the Aztecs in Central America. They knew just how special this plant was and used its seeds in a range of high-quality foods every day.
Traditional uses of chia
Chia seeds were originally used raw and cooked in Mexican cuisine, e.g. as a tasty addition to a salad dressing or as chia gel
(One part chia seeds to 7 parts water left for 20 minutes and stirred regularly).
Traditional drink: the pinole. To make this a drink, simply add two spoonfuls of chia seeds to fruit or vegetable juice. Leave for 10 minutes and stir regularly. The perfect healthy snack. In the USA, these popular seeds are found in muesli, spreads, yoghurt and fresh fruit salads.
Average nutritional values
per 100g
per daily serving 15g
%* (15 g)
Energy
1832KJ/444Kcal
274.8KJ/66.6Kcal
3%
- of which fatty acids
3.8g
0.57g
3%
- of which OMEGA 3
18.5g
2.775g
-
Carbohydrates
4.5g
0.675g
<1%
- of which sugar
0g
0g
0%
* Reference value for average adults (8400kJ / 2000kcal).
One bag (400g) contains 26 daily servings.
More features of our chia seeds
Why can not I find information on the mode of action of this product? Click here