21% L(+)- lactic acid (right-handed) 100ml
Right-handed lactic acid to an original formula. Food grade.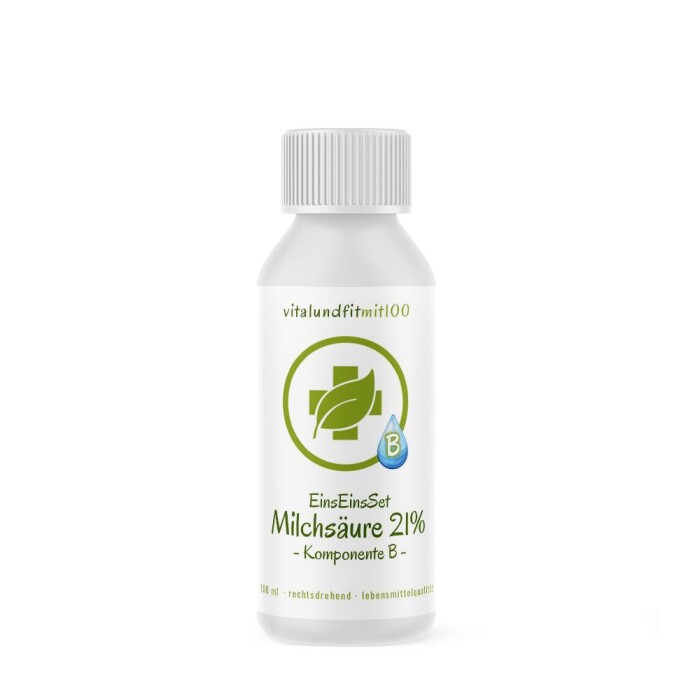 My advantages
Natural & certified ingredients
Carefully & conscientiously selected raw ingredients
Fair quality at fair prices
For over 10 years, healthy trust
developed and handcrafted with plenty of

❤

in Germany.
Shipping information
Delivery status: Available now!

Place your order within and we ship the goods today.
Shipping time: 1 - 2 workdays**
You need the goods guaranteed the next working day? For a surcharge, we send the goods gladly with DHL Express.
100ml 21% L(+)- lactic acid (right-handed)
...in a special, certified HDPE bottle with dropper & childproof closure.
Our lactic acid solution is food-grade
Country of origin:
Deutschland
Manufacturer:
vitalundfitmit100 GmbH, Siemensstr. 10, 41363 Jüchen
lactic acid
Other names: RMS lactic acid, (±)-lactic acid
Concentration: 21%
Sum formula: C3H6O3
Brief description: colourless, almost odourless, oily liquid
CAS number: 79-33-4
EC number: 201-196-2
Safety data sheet:
Download
Milkäure, legal information


Danger Warnings:
H318 Causes severe eye irritation. H315 Causes skin irritation.
General:
P102 Keep out of the reach of children.
Prention:
P280 Wear protective gloves/garments/eye protection/face protection.
Reaction:
  P305+P351+P338 IN EYE CONTACT: Gently rinse with water for several minutes. Remove existing contact lenses as soon as possible. Continue to take spinal.
P313 Seek medical advise / seek medical attention.
Protect against:
heat. UV radiation / sunlight. Store upright and at normal room temperature.
Why can not I find information on the mode of action of this product? Click here
This might also interest you