4% hydrochloric acid 100ml
Our hydrochloric acid is pharmaceutically pure (Ph. Eur.)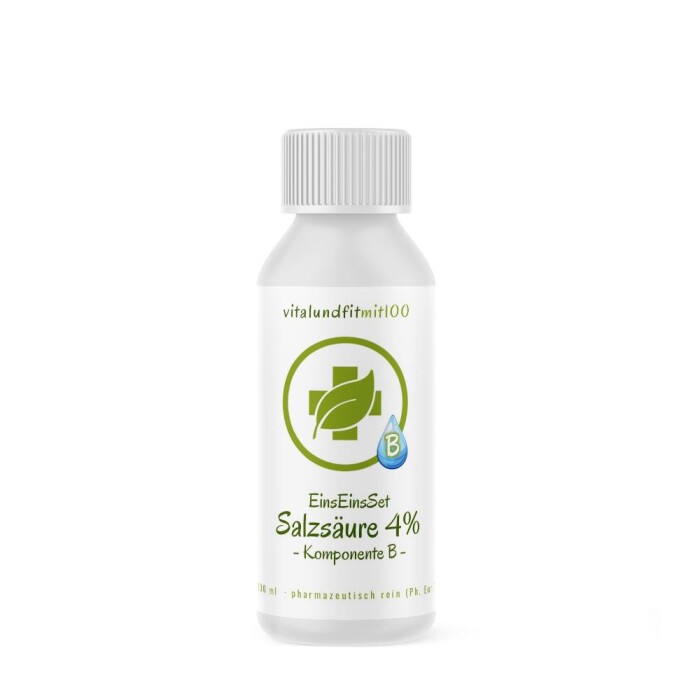 My advantages
Natural & certified ingredients
Carefully & conscientiously selected raw ingredients
Fair quality at fair prices
For over 10 years, healthy trust
developed and handcrafted with plenty of

❤

in Germany.
Shipping information
Delivery status: Available now!

Place your order within and we ship the goods today.
Shipping time: 1 - 2 workdays**
You need the goods guaranteed the next working day? For a surcharge, we send the goods gladly with DHL Express.
100ml 4% hydrochloric acid solution
...in a special, certified HDPE bottle with dropper & childproof closure.
Our hydrochloric acid is Ph. Eur. - so its quality complies with the European pharmacopeia
Country of origin:
Deutschland
Manufacturer:
vitalundfitmit100 GmbH, Siemensstr. 10, 41363 Jüchen
Salzsäure
Andere Namen: HCl
Konzentration: 4%
Summenformel: HCl
Kurzbeschreibung: farblose bis gelbliche Flüssigkeit
CAS-Nummer: 7647-01-0
EG-Nummer: 231-595-7
Sicherheitsdatenblatt:
Download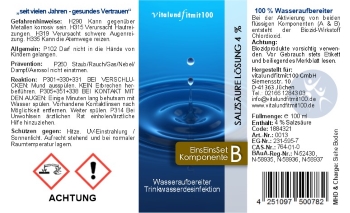 Salzsäure, gesetzliche Angaben



Gefahrenhinweise:
H290 Kann gegenüber Metallen korrosiv sein. H315 Verursacht Hautreizungen. H319 Verursacht schwere Augenreizung. H335 Kann die Atemwege reizen.
Allgemein:
P102 Darf nicht in die Hände von Kindern gelangen.
Prävention: 
P260 Staub/Rauch/Gas/Nebel/Dampf/Aerosol nicht einatmen.
Reaktion:
P301+330+331 BEI VERSCHLUCKEN: Mund ausspülen. KEIN Erbrechen herbeiführen. P305+351+338 BEI KONTAKT MIT DEN AUGEN: Einige Minuten lang behutsam mit Wasser spülen. Vorhandene Kontaktlinsen nach Möglichkeit entfernen. Weiter spülen. P314 Bei Unwohlsein ärztlichen Rat einholen/ärztliche Hilfe hinzuziehen.
Schützen gegen:
Hitze. UV-Einstrahlung / Sonnenlicht. Aufrecht stehend und bei normaler Raumtemperatur lagern.
Why can not I find information on the mode of action of this product? Click here
This might also interest you