4% hydrochloric acid 100ml
Our hydrochloric acid is pharmaceutically pure (Ph. Eur.)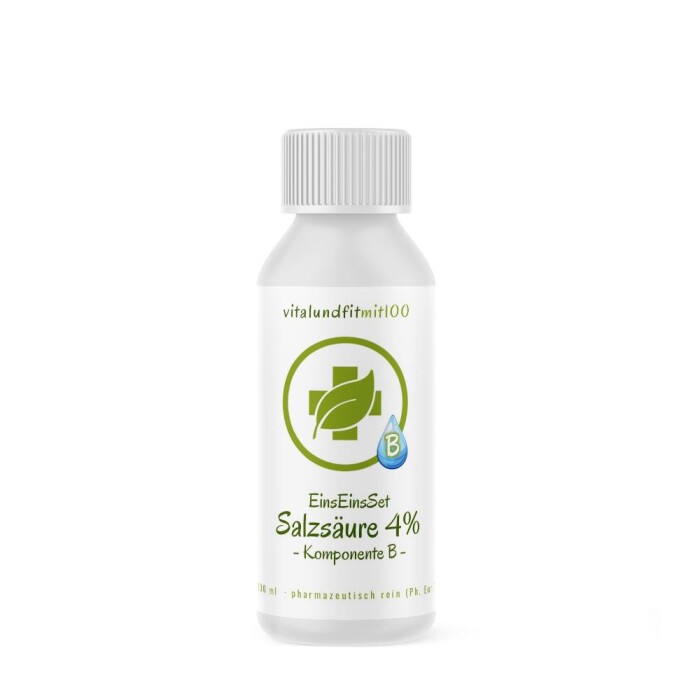 My advantages
Natural & certified ingredients
Carefully & conscientiously selected raw ingredients
Fair quality at fair prices
For over 10 years, healthy trust
developed and handcrafted with plenty of

❤

in Germany.
4 % hydrochloric acid solution
Available in specially tested HDPE dropper bottle with dropper insert & child safety closure.
Our hydrochloric acid is Ph. Eur. - so it has European pharmacopoeia quality.
Other names: Hydrogen chloride, Acidum hydrochloricum
Content: 4%, manufactured from salt ure according to Ph. Eur.
CAS number: 7647-01-0
EG number: 231-595-7
EG index number: 017-002-00-2
Storage class: 8B
UN number: 1789
Safety data sheet: Download
GHS labeling:


Signal word: Attention
Hazard warnings:
H290 May be corrosive to metals.
H315 Causes skin irritation.
H319 Causes severe eye irritation.
H335 May irritate respiratory tract.
General:
P102 Not allowed to get into the hands of children.
Prävention:
P260 Dust/Fume/Gas/Mist/Vapour/Aerosol do not breathe.
Response:
P301+330+331 IF SAMPLE: Rinse mouth. DO NOT induce vomiting.
P305+351+338 IN EYE CONTACT: Gently flush with water for several minutes. Remove existing contact lenses as soon as possible. Continue to rinse.
P314 If you feel unwell seek medical attention.
Protect against:
heat. UV radiation / sunlight. Store upright and at normal room temperature.
Why can not I find information on the mode of action of this product? Click here
This might also interest you