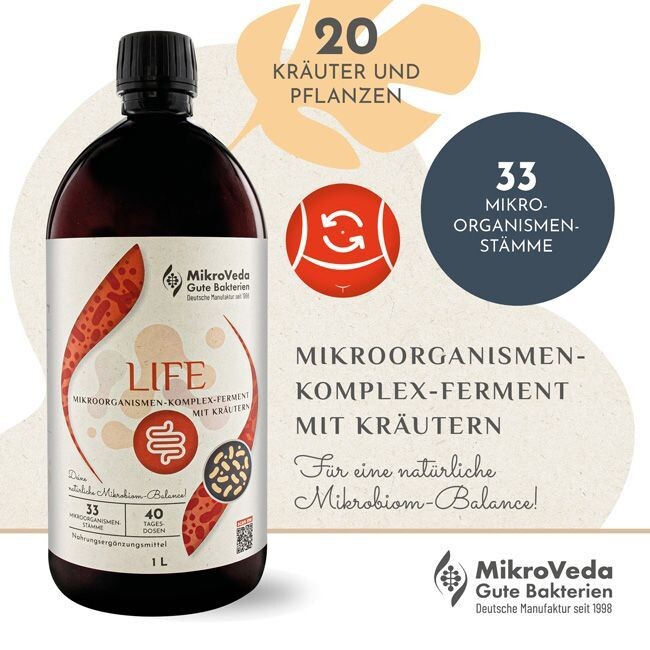 Mikroveda¬ģ LIFE 1000ml
Available now!
Place your order within and we ship the goods the next working day.
Fermented herb and plant extract. 100% natural raw ingredients...
---
---
Item no.: 0241
Content/amount: 1000 ml
EAN: 4251097500621
Country of origin: Deutschland
Natural & certified ingredients
Carefully & conscientiously selected raw ingredients
Fair quality at fair prices
For over 10 years, healthy trust
developed and handcrafted with plenty of

❤

in Germany.
MikroVeda LIFE - dietary supplement (DE √–KO 037)

Fermented herb and plant extract
Made from 100% natural raw ingredients
All fermented ingredients are purely of plant-based origin and certified organic (kbA)
Organic raw quality; suitable for a vegan lifestyle 
Natural golden yellow-brown color
Has an aromatic, sweet and sour taste and smell
Lactose-free and gluten-free
Contains no preservatives or synthetic flavorings
Doesn'€™t contain vinegar
Slowly fermented for a high-quality product
Made with love and care
Water, organic cane molasses* and organic cane sugar (molasses and sugar are used up during the fermentation process by microorganisms and transformed into lactic acid), herb and plant blend*, microorganisms, probiotic microorganisms. * Certified organic (kbA) The herb and plant blend contains: pineapple*, angelica root*, aniseed*, basil*, dill fruit*, fennel*, blueberry leaf*, raspberry leaf*, ginger*, caraway*, agrimony*, olive leaf*, oregano*, peppermint*, rosemary leaf*, red clover*, sage*, black cumin*, sweet liquorice*, thyme*, grape seed powder (OPC)*, lingzhi*. * Certified organic (kbA)
Bacterial cultures
Bacillus subtilis, Bifidobacterium animalis, Bifidobacterium bifidum, Bifidobacterium breve, Bifidobacterium longum, Bifidobacterium infantis, Bifidobacterium lactis, Enterococcus faecium, Lactobacillus acidophilus, Lactobacillus amylolyticus, Lactobacillus amylovorus, Lactobacillus bulgaricus, Lactobacillus casei 01, Lactobacillus casei 02, Lactobacillus casei 03, Lactobacillus crispatus, Lactobacillus delbrueckii, Lactobacillus farraginis, Lactobacillus fermentum, Lactobacillus gasseri, Lactobacillus helveticus, Lactobacillus johnsonii, Lactobacillus paracasei, Lactobacillus parafarraginis, Lactobacillus plantarum, Lactobacillus reuteri, Lactobacillus rhamnosus, Lactobacillus salivarius, Lactobacillus zeae, Lactobacillus diacetylactis, Lactococcus lactis, Saccharomyces cerevisae, Streptococcus thermophilus.
Ingredients

Bacterial cultures in 100ml approx. 1 x 10 high 10= 10,000,000,000 bacteria*, Reishi lingzhi (
ganoderma lucidum
)** 10mg, grape seed powder** 10mg. 
* As MikroVeda¬ģ LIFE PUR is a naturally fermented product, so the number of cells may differ.¬†¬†
** Certified organic (kbA) 
Recommended intake
Please take 25ml, or 3 x 8ml (measuring cup) either alone or with still water once a day. It'€™s best to take this product shortly before a meal. Do not exceed the recommended daily dose. Living microorganisms can actively protect themselves from stomach acid. Nutritional supplements should not be used as a substitute for a balanced, varied diet and a healthy lifestyle.
Nutrition per 100ml

Energy 25kJ/6kcal
Protein                        0g
Carbohydrate          1.5g
Fiber           < 0.66g
Fat                          0g
Nutrition per 25ml
Energy     6.25J/1.5kcal
Protein                        0g
Carbohydrate          0.38g
Fiber           < 0.2g
Fat                          0g
Storage
Keep below 25¬įC before opening. Store below 7¬įC in a cool, dark place after opening. The product can be used for approx. 4 weeks after opening. Please store this product upright and do not drink directly from the bottle. Carbon dioxide build-up can cause slight pressure in the bottle. Store the product in a cool, dry, dark place. This product should be kept out of the reach of small children.
Minimum shelf life
See sticker on product
Why can not I find information on the mode of action of this product? Click here